The Savoy Ottoman Palace Hotel & Casino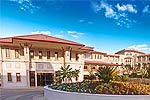 The Savoy Hotel
If you want to experience traditional Turkish hospitality in North Cyprus, then the new The Savoy Ottoman Palace Hotel and Casino in Kyrenia is now ready to welcome you. This elegant hotel opened in spring 2008 in the heart of Kyrenia, offering standard rooms and luxurious suites in an Ottoman style setting. If you opt for a 'Sultan' suite, you even get access to a private roof pool!

All rooms offer the comfort and convenience you'd expect from any top European hotel. You can chill out in front of your plasma screen tv, cooled by the room's air conditioning, or catch up on your emails via the high speed internet connection. You have your own digital safe, and, if you really want to, the bathrooms even have scales to check your weight!
Throughout, the hotel glistens and gleams with gold and marble, like a palace, and certainly you can relax here like a king (or sultan). The Harem Spa offers treatments to pamper you to perfection, including traditional massages, or simply steam away stress in the traditional Turkish Bath, or hammam. Once you've recharged yourself with a refreshing drink from the Spa's vitamin bar, you can relax beside the swimming pool, or take in the amazing views of Kyrenia and the mountains from the terrace. The hotel also has a special arrangement with nearby Escape Beach Club, should you wish to dip your toes into the warm Mediterranean Sea!
The Savoy Ottoman Palace Hotel and Casino has four restaurants including the Sarayburnu Restaurant serving Ottoman and Lebanese cuisine, the Turquoise Restaurant for snacks, and the Great Ottoman Pub and Bistro! Venture into the plush Violahill casino, and enjoy the glorious open buffet, with the best of Turkish and Ottoman cuisine available until 10.30pm.
The Savoy Ottoman Palace Hotel is just as delighted to welcome non-residents and business people, so you can meet friends or business colleagues in the Lobby Bar for coffee, cocktails or even afternoon tea. The hotel also offers an amazing venue for weddings or family celebrations, where you and your guests can dine under the stars in an amazing candelit courtyard.
Kyrenia makes an ideal base for your holiday in Northern Cyprus, just a short drive from Ercan International Airport. From the hotel, you are just a short walk from the historic harbour and the fascinating shops of old Kyrenia town.
Read reviews of Savoy Hotel Kyrenia
Accomodations
125 Deluxe Rooms, 15 "Pasha" and 2 "Sultan" Suites
Location
Centre Kyrenia, Northern Cyprus.
5 minutes walking distance to Kyrenia Habour
Distance
Inside Kyrenia, 30 minutes to Ercan Airport
Hotel
Facilities
Swimming Pool, Car Park, 24 Hour Room Service, Casino, Laundary Service, Massage, Sauna, Hair Dresser, Health Services, Free Shuttle Service to Escape Beach Club, Meeting Rooms, Turkish Hammam, Sauna, Steam Bath, Fitness Centre, Restaurants.
Photos
The Savoy Ottoman Palace Hotel