Advertising on Cyprus44
Advertise on Cyprus44 as low as £1 per day.
Why Advertise on Cyprus44?
1 million page views every year
Over 1,000 daily unique visitors
The most comprehensive and popular website on North Cyprus
Top rankings on Google UK for many North Cyprus related keywords
Lower Cost-Per-Click (CPC) compared to Google Adwords
Better and cheaper than advertising on property magazines,
in-flight magazines, billboards, etc.
Cost effective. High return-on-investment.
Advertising Rates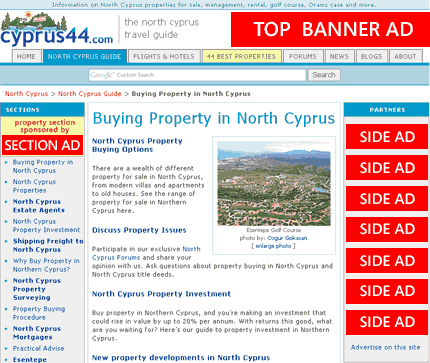 Side Ad: £250 per year
The order of ads is completely random in order to give each advertiser an equal exposure.


Top Banner Ad: £500 per year
Note that up to 5 banner ads may be in rotation.


Payment
We prefer bank transfer payment. We will provide account details.
We are happy to get a cheque dated a few months after the advert start date.


Banner Ad Design
We will design your banner ad at no extra charge.


Deal? Contact Us
Please send an email to