Lahmacun is soo delicious!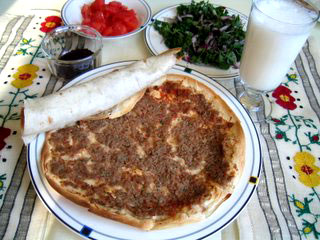 I went to Pasha Restaurant yesterday night and I can't wait to blog about this :P
Bellapais is a popular place among tourists due to the Bellapais Abbey I guess. There are also a few high class hotels and many bungalows and rental villas. Considering it's only 5 minutes away from Kyrenia, it's a good holiday spot!
Anyway, if you are staying in Bellapais or if you have hired a rental car, you MUST go to Pasha Restaurant. The menu is not crowded at all - Lahmacun (Turkish Pizza), a few mixed types of pide (pitta with eggs, cheese and meat) and their home-made manti (a type of dumpling). Although lahmacun and pide are very delicious, I think manti is their speciality!
I could not stop myself from "testing" all those three. And if you like spicy stuff, make sure to tell the waiter to prepare more pepper sauce for manti. You'll love it!
No booking is required - the restaurant is just a large room in the house. They are closed on Sundays and they open for lunch for 2-3 hours and dinner after 5pm. You can also order by phone and pick it up - 0392 815 7586.
I am also attaching a google earth map ;)
Enjoy! and please post your comments here once you tried it!!
Labels: bellapais, local, restaurants