Kyrenia Hotels
Kyrenia is a beautiful coastal town with a castle, harbour and more.
You can book your hotel in Kyrenia online using this website.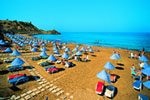 Acapulco Beach Club
Acapulco Beach Club & Resort Hotel is located on a golden sandy beach with shallow crystal clear waters. Acapulco has unique natural beauties and rich flora and fauna that makes it one of the most beautiful holiday villages in North Cyprus. Acapulco Holiday Resort Hotel offers a balanced mixture of Cyprus tradition with Western comforts. The resort's fabulous pool features waterfalls, a sunken bar and being next to the beach, guests can easily participate in the many water sports offered by the experienced staff.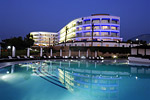 Malpas Hotel
This five star luxury resort hotel is one of only a handful of quality resort hotels in North Cyprus, offering every facility you would expect to find in a top international hotel for holiday makers and conference delegates alike. The Malpas even offer a free courtesy shuttle bus into Kyrenia. Malpas Hotel has opened a new sandy beach in 2008. We highly recommend Malpas Hotel because it offers a great value for a 5 star hotel.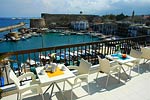 The British Hotel
British Hotel is the best boutique hotel in Kyrenia Harbour range. It overlooks the Kyrenia Harbour with its unbeatable position. The second floor and third floor hotel rooms all have a balcony with great views of the Kyrenia Harbour. Highly recommended for tourists alike who want to be near the town centre and still stay in a comfortable hotel room at a great value! Suitable for elderly - there is a lift!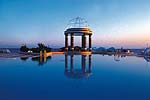 The Dome Hotel
A 'grande dame' of Cyprus hotels, remembered with nostalgia by the many hundreds of British guests who have stayed here down the years. The Dome has a stately 70 years of history, and has long been the focal point of social life in Kyrenia. Right in the heart of town, it has nevertheless retained an atmosphere of colonial charm and quiet elegance, yet it has thoroughly up to date amenities. Appealing to a more mature, discerning clientele, poised on the very edge of the Mediterranean beside the picturesque harbour.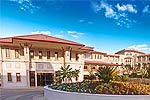 The Savoy Hotel
If you want to experience traditional Turkish hospitality in North Cyprus, then the new The Savoy Ottoman Palace Hotel and Casino in Kyrenia is now ready to welcome you. This elegant hotel opened in spring 2008 in the heart of Kyrenia, offering standard rooms and luxurious suites in an Ottoman style setting. If you opt for a 'Sultan' suite, you even get access to a private roof pool!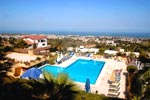 The Onar Village
In the foothills of Kyrenia mountains, in the shadow of St. Hilarion Castle, this small holiday village has commanding views of Kyrenia and the Mediterranean coastline. Designed to harmonize with the beautiful surroundings, the gardens are a mixture of trees, shrubs and flowers, the villas reflect Turkish Cypriot homes, but with all the amenities of modern living. Hotel rooms have a high standard of furnishing and decor, with an ideal location overlooking the pool and the coastline. An unusual feature is a small museum, displaying a private collection of rare artefacts.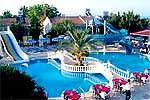 Riverside Holiday Village
Riverside Holiday Village is situated in the delightful countryside, set on the gentle slopes of the mountains behind Kyrenia, and only about a 10 minute drive from the nearest beach. There are many facilities here to keep you occupied, and some holidaymakers may choose never to leave the village with so much to enjoy. For its size, there is a wider range of attractions than you might expect, and the overall impression of the village is that it is well run and is well maintained. The Aqua park is great fun for the children.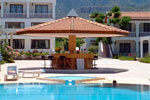 Hotel Club Z
The main shopping street, amenities, picturesque yacht harbour and Byzantine castle are all within walking distance from the Hotel Club Z. Club Z is in town, right in the centre. The spacious swimming pool and pool side area ensures a relaxing day. The pool side bar serves drinks and snacks throughout the day. The Health Club with heated swimming pool, jacuzzi, steam bath, sauna and fitness room will keep you busy even during your busy holiday while an appointment at the massage room will offer you the complete relaxation in your mind, body and spirit...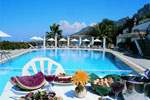 The Hideaway Club
The Hideaway Club is a family run luxury boutique hotel in the foothills of the Kyrenia Mountains with stunning views of the Mediterranean Sea. Light airy suites have a balcony overlooking the sea or a private terrace and are beautifully appointed with locally made furnishings, wrought iron and wood. Delightful Cypriot and International cuisine is served on the roof terrace restaurant and wonderful cocktails are served at the poolside bar. A full cooked breakfast is served on guests' own private balconies (April - end October) as part of the standard superb service.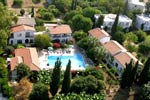 Villa Club Holiday Village
Villa Club, 5 miles west of Kyrenia, is quiet, family-run holiday complex. Situated in 10 acres of orange and lemon groves, but only 350 metres from the beach where you can find watersports like skiing and scuba diving. Villa Club consists of self-catering villas and studios - the villas accommodate a family of up to four and the studios are twin or double. All the rooms are furnished to a high standard and have full private facilities, ensuite bath or shower, air conditioning / heating, mini-bar, fridge, direct dial telephones, tea and coffee making facilities.
The Ship Inn
The Ship Inn is conveniently situated just over one mile from Kyrenia. The 48 tastefully decorated and spacious hotel rooms have air conditioning, en-suite with shower, satellite TV, fridge, tea and coffee making facilities, telephone and balcony or terrace. Extensive hotel facilities include a large freshwater swimming pool with pool bar/café and a large restaurant. The private indoor health club incorporates a stunning heated freshwater swimming pool with spa bath and sauna.