Nature Bay Beach Villas
| | |
| --- | --- |
| Project | Nature Bay Beach Villas |
| Developer | Nature Bay Developers |
| Location | Alagadi area |
| Property Types | Villas |
| Prices From | £260,000 |
| Status | To be completed by November 2008 |
---
Advertisement

Cyprus44 Review
---
Nature Bay Developers pride themselves on a non-pressurised and professional marketing policy, which makes a welcome change in the highly competitive marketplace of North Cyprus property. They aim to make buying property in North Cyprus a pleasurable and hassle-free experience, and the team seem to truly appreciate that satisfied customers are very important! The Nature Bay Developers group has built major projects in the Middle East, Europe and the UK, and aim to make each and every development unique.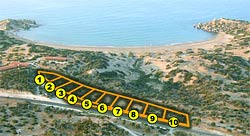 Nature Bay Beach Villas
Nature Bay Developers also place a high value on the landscaping and natural appeal of their development sites, and the surrounding environment. Nature Bay Beach Villas is a good example of this, as the site is just one minute's walk away from Alagadi beach, where rare sea turtles breed. This government-protected reserve has been fully preserved and respected by the developers, which is a real show of their commitment to North Cyprus' wildlife.
Just five minutes drive from Esentepe, the Nature Bay Beach Villas not only enjoy great beach access, but they also have the golden triangle of views; the sea, the mountains and the bay itself. (Not every villa in North Cyprus perched up on a cliff can actually see both sea and sand, after all!) So, you can relax in your 50 square metre overflow swimming pool (every villa here has one) and admire the views, without disturbing any turtles… Golf fans will be delighted that these luxury seafront villas are also only 800 metres from the Korineum Golf and Country Club, the absolute 'must-be-seen' place in this part of North Cyprus.
Nature Bay Beach Villas comprise ten luxury villas each on a generous 1 donum plot size, the maximum any non-resident can buy in North Cyprus. At Nature Bay Beach Villas, you'll always find at least three bedrooms (usually four) each with their own en-suite bathroom, another guest toilet, and a well-fitted kitchen for entertaining. Your friends and family can relax in the generous-sized lounge, or toast their toes by the fireside on winter evenings.
All the Nature Bay Beach Villas reflect an aspect of Mediterranean design and styling, which appeals to many European buyers. As well as a choice of five different designs for your dream villa in North Cyprus, you can design your property to suit your need by working with the developer's own architects, so changes can be more personal than just a different colour of tile.
The design A and design E villas at Nature Bay Beach Villas have a genuine Mediterranean feel to them, with whitewashed walls, sun terraces and elegant arches over the patios, plus red-tiled roofs and good window sizes for a light and airy feel.
Design B villas are more adventurous, with a strong Art Deco element in their design. The front of the house curves round gently, with room height glass windows and a glass-edged balcony adding to the feeling of 1930s style, reminiscent of ocean liners. You almost expect to meet David Suchet as Hercule Poirot walking up the steps!
Designs C and D are more clean-lined without looking too foursquare. The open-ended beams and flat roofs of Design C are almost Mexican in style, while the smart Design D houses offer striking roof walls to create both style and privacy for the roof terraces.
All Nature Bay Beach Villas feature both air conditioning and central heating as standard, unusual in North Cyprus developments, but reflected in the £260,000 asking price. One great advantage of buying from Nature Bay developers is that you are buying your Nature Bay Beach Villa direct from the company that built them, thus saving estate agents commissions of up to 5%.
Nature Bay Beach Villas Forum Board
---