Famagusta Cyprus on World Monuments Watch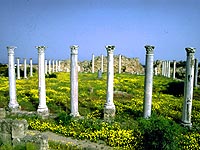 After my recent trip to Barcelona, a friend reminded me that since June, another great city with a fascinating past,
Famagusta
, was on the
World Monuments Watch (WMW)
List of 100 Most Endangered Sites. This list is produced every two years to highlight sites of cultural heritage at risk, and it makes disturbing reading.
Anyone who has visited the old walled city of Famagusta will know that those magnificent walls and battle-scarred buildings are an irrisistable draw for visitors, yet the WMW list a myriad of problems the city faces. The WMW report says:
"Lack of funding and expertise in the northern Cyprus heritage sector has proved detrimental to the welfare of 9,000 years of cultural heritage. Frescoes are bleached by the sun in summer and rained upon every winter; walls of churches and palaces are unstable and appear ready to tumble; cut sandstone is friable and crumbling, and what is viable is often removed from historic sites for reuse; old buildings are inappropriately used; and exponentially increasing numbers of concrete foundations are being poured to accommodate and rapidly growing university population. Watch listing is intended to call attention to the plight of Famagusta, a site of historic importance suffering as a result of its modern political situation."
Interestingly, the Architectural Record places Famagusta into the category of "Sites Threatened by Conflict: Whether past, ongoing, or imminent, conflict has become one of the most severe threats to cultural heritage." Not that this is a list of shame, more a reflection on how political events can affect ancient monuments. Also in the category is the Church of the Holy Nativity, Bethlehem, and the entire Cultural Heritage Sites of Iraq.
Sadly, many of North Cyprus' most ancient sites could also come under a couple of other categories, such as "Sites Threatened by Economic and Development Pressures: Often historic sites suffer in the interest of short-term gains that result in long-term losses. New construction often means destruction of historic places." We know what that feels like too.
Or, Famagusta could join the Historic Cities category: "With contemporary culture placing more value on modernity, historic cities and their local traditions are having an especially difficult time maintaining their way of life in a rapidly changing world." One such example is Lima in Peru, whose issue have a familiar ring to them; "Its wealthy inhabitants built houses, palaces, gardens, and churches that were considered the most opulent and ostentatious in the Americas. Hundreds of monuments and thousands of residences in the city's historic center are abandoned and threatened by collapse."
So, what can we do about this? As more property developments spring up across North Cyprus, more and more people will want to experience this delightful county we call home. No everyone will want to sunbathe and drink beer all day, and if the precious heritage of North Cyprus is not preserved, there will be less to attract the holiday maker who prefers culture to kebabs. So, I suggest you take your friends and visitors to historic sites, kicking and screaming if necessary! Show them the iconic columns of Salamis, the massive walls of Famagusta, the breathtaking views from St Hilarion Castle. Let them sit under the Tree of Idleness at Bellapais, feel the breeze on their faces at the palace at Vuoni, or discover an abandoned church in the Karpaz. Support those sites that are cared for, and bring attention to those that need care. If we value it, and visitors value it, then it becomes valuable, and worth preserving.