Kyrenia Bypass Road Progress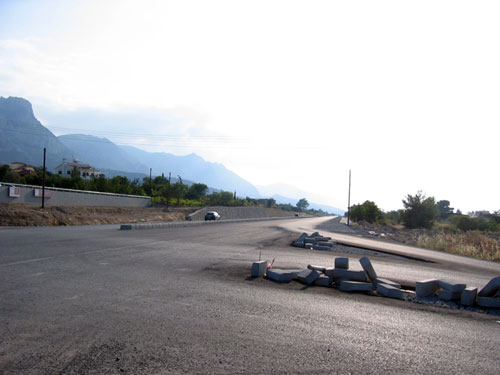 Anyone who has been stuck in traffic around Kyrenia (Girne) knows that it's not just the M25 in the UK that can turn into a virtual car park at the slightest snarl-up. As one who spent far too many years gazing at tail-lights as a UK commuter, I've been following the progress of the Kyrenia / Girne bypass with interest.
Or rather, the non-progress. The new road is due to start at the mosque on the Girne roundabout and end near Karsiysaka, but what happens in between? Not a lot in places, it appears.
You can drive on the first part (although the link to the main Lefkosa road is far from ready), and up to the GAU (university exit). Then the road comes to a roaring halt, because it appears not all the compulsory purchase orders have been completed, so building can't start on the second part yet.
However, those who have taken the part of the road actually open at time of writing say that the Cami to GAU road shaves ten minutes off the journey, and that's without traffic. So, I look forward to the day when the journey from Ercan to any property near Kyrenia doesn't involve time for a detailed examination of the contents of the car in front!
One success story for the bypass is that the section at Zeytinlik runs through a field of mature olive trees. Thanks to the efforts of the Olive Tree Project and the Kyrenia Council, twenty-one mature olive trees were successfully relocated to parks and the village itself, while others found new safe plots in gardens as far afield as Catalkoy. It's good to see these gnarled giants respected and protected, when so many have been lost to the bulldozers over the years.
Interestingly, estate agents are already tipping the Karsiyaka area as the new property hotspot on the strength of this new bypass and other road improvements in the area. So perhaps it won't be a road to nowhere for very long...