After 2 months of hard work, North Nicosia section is now alive:
http://www.cyprus44.com/nicosia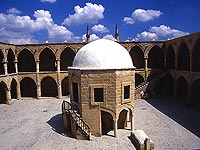 You can read about 20 sights in Nicosia, including the city walls, the Great Inn, St Sophia Cathedral, Bandabulya (marketplace), Arabahmet district and more.
We have information on the history of Nicosia including Ottoman rule.
Also, a summary of Nicosia Master Plan sponsored by UNDP.
Last but not least, a list of established restaurants and bars in North Nicosia.
Nicosia Photo Gallery has some unique shots!
With these new additions, we have reached almost 600 pages of information and 142 quality photographs - live statisics.
Enjoy travellers!