New Monarch and Pegasus Flights to Cyprus
Now, we all love a bargain, and we especially love a flight bargain. The Brits are already in love with low-cost fares, and the
new Monarch cheap flights to Larnaca from Luton
, and Flyglobespan's similar service from Stansted, are just the latest in the ever-growing of budget flights. Or are they?
In fact, this no-frill flight is the longest low-cost route in or out of the UK, according to Simon Calder writing in Condé Naste Traveller magazine. (No, of course I don't buy it - Smug Sister in London aka the SSiL reads it over morning coffee and emails me the best bits.) Cyprus is one of only three new no-frills destinations launched this year, so to have two new Cyprus budget flights to choose from by the end of the month (Monarch starts on 23 March, Flyglobespan a few days later) is quite remarkable.
What will this mean for us here in North Cyprus? Well, for a start, it will mean a lot more trips to the airport (or at least, the border) for mugs like me whose relatives see a cheap flight to Cyprus, and assume that they can stay for a week at a moment's notice! OK, more seriously, it will increase the number of people visiting North Cyprus – but only if they know about it. So, keep spreading the word, and let's get the kind of tourist that appreciate what we have here – space, scenery, history and friendly people.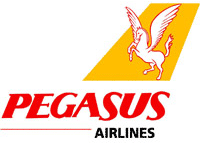 Talking of spreading the word, SSiL has just got the latest brochure from Pegasus flights to North Cyprus. She said the prices are very reasonable and online booking is available, but there is still a stop-over in Istanbul.
Surely it's only a matter of time before time direct flights come to Northern Cyprus, and maybe even a budget carrier as well. I watch the skies with interest.
Kathy