A Dogs Life by Scruff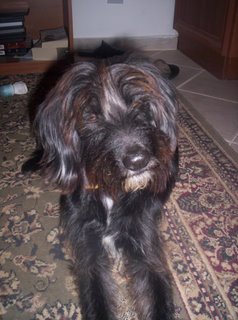 My new owners arrived on time on 22nd January to take me to my new home. The journey took about half an hour but I enjoy travelling in a car and there was lots to see, we went from Ilgaz to Ozankoy.
It took me a couple of days to completely settle in but we street dogs are so grateful for a loving family, food and walks in return you will get our devotion (unless anything of real interest distracts us) and safeguard your home if anyone comes near - I have a good voice on me.
As my new owners do not have their garden fenced off yet they have had a very large cage made for me for when they go out. Well did I give them a shock the first time they left me!! I dug a hole under one side and escaped I knew they had gone down the road to friends and went to meet them - now they have paved the area inside so I cannot dig my way out.
I have been to the vets for all my primary injections - 4 within six weeks and the next one is due in a year and my worming tablets every three months. The vet they use is Girne Veteriner Klinigi behind the Pia Bella she is a very caring lady and remembers my name. I went to be spayed on 12th February, I was dropped off at 9am and collected at 12.30 (boy I don't want to go through that again) I was woozey all day but by tuesday afternoon back to mischief this only cost 100ytl she is very reasonably priced.
I wear a shiney disc with the number 595 which you get from Girne Belediyesi (just by the police station by Girne market) for 50cents and then I was registered with the local Muhtarligi this cost 10ytl now I am perfectly legal and if I get lost they know where I belong.
Anyone living in TRNC who doesn't have a pet should take a trip to Kyrenia Animal Rescue Centre (KAR) on the mountain road to Ercan. There are so many of my friends there cats and dogs who would love a home of their own and I know they would give you so much love in return. If you cannot give them a home why not spend an hour or so walking them in the beautiful countryside around the Centre (mornings only) the exercise will do you all good and my friends would be so pleased the centre needs all the walkers it can get.