My First Time Golf at Korineum Course in Esentepe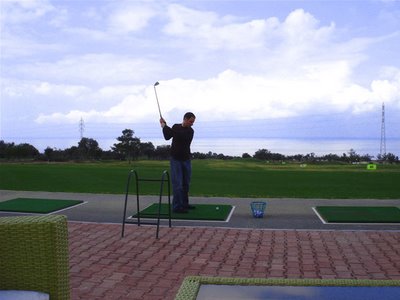 Today, my friend Berkan (photo above) and I went to the Korineum golf course in Esentepe in order to play golf for the first time.
Golf is so much fun! We each paid £2 for "the stick" and £2 for 30 balls. They give you a token which use to get 30 balls from the machine next to the academy. I had to swing the air a couple of times before I actually were able to hit the ball.
Then, a nice man who Berkan knew, told us a few tips and we got better as we practice.
We really want to learn playing golf so we signed up for the 10-hour lesson plan which costed £300 for two of us (£250 for 1 person + £50 extra per person). We did not become a member yet. If we still like this sport after the lessons which I think we'll most definitely do, then our plan is to sign up for the academy membership which costs only £250 per person annual upto 90 rounds of golf in the 3-hole academy area.
Anyway, my advise is - if you are a resident, you just shouldn't miss the lots of fun just a short drive away from your home. If you are a golf player already, you will love Esentepe golf course - the scenery is amazing! You get to see excellent sea views and breath fresh air everywhere.
My first lesson is on Wednesday. I'll keep you posted.