Alagadi Turtle Beach
Alagadi beach has the longest stretch of beach on the coast, and for once it's also a public beach that locals and tourists alike can enjoy. Behind the beach, the Five Finger Mountains rise up to provide a wonderful view even when you are not looking at the sea! Alagadi beach is one of the major beaches in Northern Cyprus where the loggerhead and green turtles come to nest, and so is sometimes called "Turtle Beach".
Access to the beach from the main road is via dirt tracks, and most access points involve a walk through the impressive sand dunes behind to the sea itself. The first track giving access to Alagadi beach from the main road is a pretty 1.5km drive through olive trees and down to within 300m of the sea.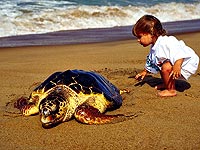 Turtle Watching in Alagadi Beach
photo by: Esentepe Municipality
[ enlarge photo ]