Vrysi (Çatalköy)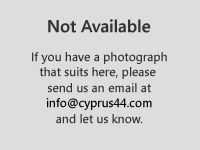 Not Available
Vrysi is proof positive that people from all over the Mediterranean have made their homes in North Cyprus for centuries. This small Neolithic settlement in Northern Cyprus was excavated between 1969 and 1973 by teams from the University of Glasgow. The stone houses, dating from between 4000BC and 3000BC, were built by settlers from a district in Anatolia called Kilikya (Cilicia). It appears the Vrysins left the site and settled elsewhere due to rising sea levels about 3000BC. They left behind the remains of everyday life, including thousands of pottery fragments. All the finds from the site are housed in Kyrenia Castle.
Archaeological evidence suggests that the Vrysins of North Cyprus were skilled weavers and potters, although they had no written language. Over 250 bone needles were discovered, many more than expected, suggesting that weaving of wool cloth rather than fishing was the main occupation.
The one-room Vrysin houses were rectangular in shape, with the walls rounded at the corners. They were set into hollows in the ground, so much so that some houses were almost below ground level. These neolithic North Cyprus houses were built of stone and clay, with reed roofs supported by wooden rafters, and covered in mud and clay. Rush matting would have covered the floor.
Today, Vrysi sits on a promontory at the eastern end of the popular Acapulco Beach, and the few remaining house walls give little clue as the their original construction. Unfortunately, the exposed house walls are crumbling away, and over time erosion of the promontory itself will probably mean the site will simply disappear into the sea.
The site is sometimes referred to as Catalköy, which is also a village nearby. The village sits on a low escarpment, which is pocketed with caves. One such cave was home to a 12th century hermit named Epiktitos.