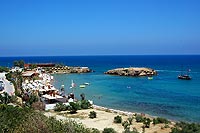 One of our Cyprus44 visitors who comes to North Cyprus for holiday, emailed me the other day with his comments about the high cost of entrance fee to Escape Beach in North Cyprus. I got permission from him to publish this:
I have recently returned home after a lovely holiday in Northern Cyprus. This was my fifth visit and was extremely dissapointed at the cost of a day on Escape Beach.
My family usually holiday with me. This includes children as well as adults. There were nine of us this trip. We always spend at least four days of our holiday on escape beach.
We were shocked this year when we were charged 15ytl per person. As you can imagine this was an expensive day for members of my family who have three children. Needles to say, we spent one day there.
I cannot understand how the cost has risen so much, as none of the facilities have changed that much.
We love to come to Northern Cyprus, as its a beautiful place, friendly locals, and is also great value for money, which is a pull for families.
I do hope you are not going to price yourself too high as I feel you would loose out on custom. In fact I drove passed the Escape beach on several occassions and it was pretty empty compared to previous years (we always visit in October).