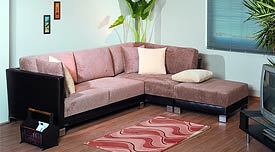 Last month, we finally got the keys to our new villa in Esentepe, and we are thrilled with it. Already, friends we met while renting here have come to visit, all eager to see our new home. However, we did not expect their main question to be "Where did you find your lovely furniture?"! When I told them, they suggested I tell everyone at Cyprus 44 too, so here goes!
We did not want the developer's furniture package, and we thought the choice of furniture shops around Kyrenia was a bit limited. (We did go to Homefront at Alsancak, but their choice of non iron-frame furniture was limited.)
So, we decided to go into Nicosia, and stopped at the first furniture showroom we liked the look of after the main roundabout coming into Lefkosa from the Girne road.
This was YATSAN furniture showroom, and what a find it turned out to be. To start with, they had a great range of sofas including corner sofa sets, which I had back in the UK and loved, because all the family could sit together. After sitting on nearly all the sofas they had, which they were more than happy for us to do, we finally chose the Cantone corner sofa, which is really comfy and looks great in our living room.
We hadn't planned to buy our new beds at the same store, but Yatsan had such a good range of bed bases and mattresses, my hubby insisted we try them out. (His excuse for a rest, I reckon!). The nice girl who runs the show helped us select a good mattress that suited us both and one for the second bedroom, and we bought two bed bases, both with storage underneath for all our winter blankets and stuff.
0% credit deals like discount furniture store in the UK offer don't exist in North Cyprus, but the girl at Yatsan offered me 5% discount if I paid in cash. I opted instead for their monthly installments option on my credit card. They don't add any interest on top, so you just pay the whole amount off over 12 months.
The Yatsan showroom is two minutes away from the Gonyeli roundabout - rather than me describe it, see the map at their website! http://www.yatsancyprus.com/.
So, now you know our North Cyprus furniture secret! :)
Kate Mitchel