Cyprus reunification issue to be solved by an Australian?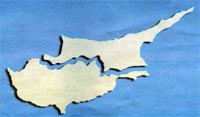 Can the whole Cyprus reunification issue really be solved by an Australian? Certainly, the UN seem keen to enlist former Australian foreign minister Alexander Downer as the new UN special envoy, in order to kick-start the peace talks.
In fairness, talks between President Christofias and Mehmet Ali Talat are a current reality, not just the fanciful wishing of just a few months back. The issue seems to be, when to stop arranging the reunification talks, and actually start, well, talking the talks.
A joint statement from both leaders after their meeting last week restated their ultimate goal of a "bi-zonal and bi-communal federation based on the principle of equality" , which is great news. However, they will be meeting again in June to set the date for the start of reunification talks proper, which is not such good progress.
Now, if Mr Downer is as straight-talking as his fellow countrymen Down Under, and as laid back, then he could be just the man for the job. Perhaps, with a Crocodile Dundee swagger, he'll sit the two blokes from either side of the buffer zone round a campfire with a six pack of tinnies (beers) and sort out the whole thing before the tinnies get too warm.
What a great thought - I'll drink to that!
Kathy