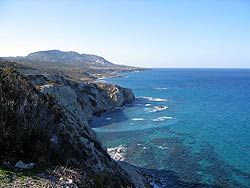 The recent post in the Cyprus 44 forum "Property investment as a business here - your views?" has set me thinking. Poster Mish (a professional international development economist, whatever that might be!) has been looking at the TRNC market with a keen eye for the margins.
Basically, his post boils down to three fundamental issues of investing in property in North Cyprus:

1) Long-term rental verses short term holiday lets?

2) If holiday lets, where?

3) If holiday lets, is there a market?
He's quite happy to consider the familiar property developer technique of flipping (selling an off-plan property before completion at a profit), yet is concerned with the number of completed and unoccupied properties for sale around Esentepe.
And here is the crux of the problem. Those eager property investors who bought off-plan for profit now face the same problem as flat owners in Leeds and other UK cities; in some developments, supply currently outstrips demand. (Please note I said, currently.)
The number of empty properties seen in developments are not attractive to those looking for a bustling location for family holiday lets, nor to those looking for a friendly retirement haven. Couple this with the downturn in tourist numbers, and the demise of holiday firms such as Cyprus Paradise, and us TRNC property owners must start to wonder if it's time to stick our heads in the nearest gas oven.
Of course, it's not. North Cyprus is not a market for making a quick buck, despite the sales hype from developers, but neither is the UK anymore. British property investors have been spoilt by great returns on a rising market for years, and it's made them greedy and impatient.
So, I'd ask them to take another view, and think outside the profit margins. Making an investment in North Cyprus property is also making an investment in North Cyprus itself, stating you have confidence in the Turkish Cypriot people and this country's future. A solution will come, and each day it's getting closer. It won't make millionaires out of any of us overnight, nor will it necessarily be an easy ride, but I for one am here for the long term. As Julie Andrews sang, "I have confidence"!
I also have a great lifestyle, a lovely home, sunshine 300 days a year and wonderful neighbours. Perhaps Mish might like to leave the profit-chasing and chill out for a while in North Cyprus - it won't make him rich but it might make him happy!