A Happy SeaTerra Reserve customer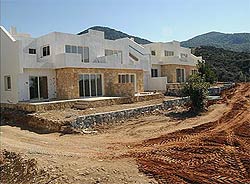 If I had listened to all the bad stuff in the press about buying property abroad, I would never have come to North Cyprus, and just sat at home moaning about the weather. But if I had never come to North Cyprus, I would not be the proud owner of a place in the sun at SeaTerra Reserve.
North Cyprus has had such a bad press, and everyone said "oh, it's really difficult to buy", "you'll get ripped off", etc. Well, buying was easy, we haven't been ripped off and in fact we're very happy with progress so far. We've been out again to see how "our" space in the olive trees with a number on it has turned into a smart apartment block, and even the wife is impressed!
Our daughter's been trying to buy a new home in the UK, and the quality of some of the workmanship on some of the new builds she saw was terrible. Our apartment is much better built, with a more quality finish and certainly much better views.
To everyone thinking about buying in North Cyprus, get out here and see for yourself, and for all you Sea Terra buyers, I'll be there in May (fingers crossed) to soak up the sun and sink some beers!
Dave and Sue from Dudley, West Midlands