Ditch the Euro, embrace the Lira!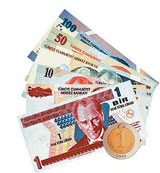 The UK Times Money section has published a list of the top five currencies that are great value for UK holiday makers at the moment - and the Turkish Lira is one of them! Even though the exchange rate is not actually as good as last year, Anthony Rice of Travelex is quoted as saying; "Your money certainly goes a long way in Turkey."
Yes, you've spotted my gripe already! The Times article doesn't even mention that North Cyprus uses the Turkish Lira. So, once again, North Cyprus loses out on publicity.
However, I've been browsing some travel forums recently, and am constantly amazed as to how many people don't know what currency various European countries use. There are endless questions along the lines of "What currency shall I bring to Cyprus?", and equally depressing answers that still mention the Cypriot pound, AND leave out any mention of the difference between north and south.
So, it's time to take up the challenge! With the Turkish Lira being such a good buy for the UK, this is the year to plug a TRNC holiday to all your friends as not only fun, sun-filled and relaxing, but also cheaper than in any Eurozone country. And that includes hotels, so they don't all have to stay in your villa all summer to save cash!!