North Cyprus in the EU?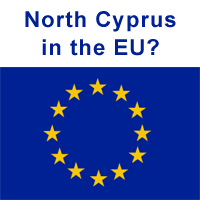 It's not often I find myself gently nodding in agreement with an article in The Washington Post (EU and Turkey: still talking barely) but this one was an exception.
On Tuesday, talks resumed on Turkey's entry to the EU, and as the paper's correspondents said; "While neither side says the process is dead, few question that Turkey's goal of joining Europe's club is in deep trouble."
Despite opposition to membership by European heavyweights French President Nicolas Sarkozy and German Chancellor Angela Merkel, Turkey's strategic position as the 'tap' between Europe and their supplies of former Russian state gas cannot be overlooked.
Now, all this may be very exciting in Brussels, but what does it actually for us here in North Cyprus?
First of all, thank heavens we were NOT in the Euro currency when the credit crunch came, and we have been spared at least some of the pain of tumbling exchange rates.
But looking ahead, what can the EU give to us? Based on Britain's example, we'll get grants for deprived areas regeneration, but at the expense of endless red tape and EU regulations that often defy logic.
We'll get freedom to work anywhere in the EU, but at the expense of other countries being entitled to do the same, and risk an influx of workers.
An, of course EU membership alone will not solve the issues still being discussed in reunification talks.
A top analyst says it will take up to a decade for Turkey to join the EU as a full member, and so perhaps now is the time to get those talks moving faster, so that the way is paved for EU membership - if we want it by then, of course.
Got a view about EU membership? Discuss it as our Cyprus 44 forum!