Cyprus Holiday Snaps and memories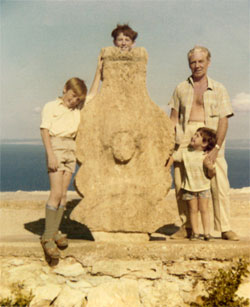 I may not post very often these days, but I love meeting new arrivals on the Cyprus44 forum.

Latest newbie to catch my eye is Jetnoise/Ralph, who has posted old holiday snaps of childhood holidays in the northern part of Cyprus, as it was then. Idyllic pictures of smiling children beside a caravan on a beach, posing with an ancient stone monument, all sunshine and laughter. Then you see the dates; Famagusta in 1972 and Kyrenia in 1973... (See actual post)
Which made me reach immediately for one of my favourite guide book on my shelves; "The Travellers' Guide to Cyprus" by Hazel Thurston, the revised 1971 edition! Yes, I've got all the latest North Cyprus guide books, including the Bradt and Landmark series, but I love this tatty old guidebook for its wonderful sketch maps.
There's something very satisfying about its detailed plans of the Gymnasium and bath complex at Salamis, the Wards at St Hilarion, and the walled city of Nicosia shown as one complete circle.
What is heart-warming is that the essential atmosphere of North Cyprus seems to have survived the years, even if the meaning of some words have changed since: "Kyrenia is no longer a backwater retreat for retired, excessively clubbable Empire-builders. It is gay and full of life.. Kyrenia has an atmosphere as highly coloured as its picture-postcards."
Yet the author is already bemoaning change; if they could see it now! For example, "The Dome is the doyen of Kyrenia hotels. It has now grown almost beyond recognition."
However, who now would recognise the description of a suburb of Famagusta:  "Varosha... now contains everything of modern importance from the point of administration, shopping, hotels and transport centres... above all, safe beaches make (Varosha) the perfect antidote to strenuous sightseeing programmes." 
I scoured the Famagusta sketch map and hotel listing for Ralph's elusive Regina Breach Hotel, but to no avail. Perhaps it was one of the new hotels that were springing up so fast the guidebook said it couldn't list them all...