Think North Cyprus, think salsa?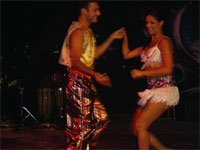 OK, so salsa probably wouldn't be the first kind of dance that you'd associate with North Cyprus. Salsa dance is vibrant and mesmerizing and in recent years it's exploded all over the world. Now the good news for all you dance lovers is that the much-loved Latin scene is taking off here too.
Mehmet Aslan, also known as DJ Salsero, will be spinning the best sizzling beats at Nostalgia music bar, Lefkosa, on Saturday 20th February, and it promises to be a fun-packed night. Also joining the line up will be Mehmet Ceyhan, organizer of the annual Turkey Latin Music & Dance Festival and co-founder of Mundo Latino Dance & Promotions in Istanbul. Mehmet Ceyhan's troupe danced at the 6th International UK Salsa Congress in 2009, wowing the crowd with an Anatolian-Latin fusion, I dream of Turkey. There will be a special show, exclusive to Cyprus, around midnight.
DJ Salsero, who co-founded the hugely popular annual Salsa Jam in Cyprus, returned to here in 2001 after a career as a Latin DJ and began working in Nostalgia Music Bar. His passion for Salsa has earned him the DJ of the Year Award at the 2nd Cyprus Salsa Congress.
If you're looking for something a bit different this weekend and want a lively, entertaining evening with an international flavour, head on down to this North Cyprus salsa-fest. And don't forget to bring your dancing shoes because you can even take part in a class from 9pm – 10pm.
Entrance: 20 YTL or 10 Euro inc. first drink + Class + Party
Contact: 0533 868 3611