Last Minute North Cyprus Villa Holidays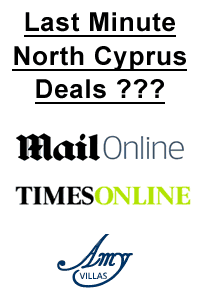 I'm sure I don't need to tell any rental villa owner here that the UK recession has meant holidaymakers have either opted to stay at home this summer, or leave booking their holiday until the very last minute in search of bargains.
However, there are signs that 'last minute' might actually be now, as national newspaper are pushing our articles saying "book now, as it won't get cheaper and availability will fall".
The Sunday Times Travel section, (link) always a good indicator of trends, summarised the best bargains to be had in each of the major Med countries (Spain, Italy, France, Greece and Turkey), and only in Greece and Turkey were villas actually in short supply. Elsewhere, the theme was that villa holidays were being discounted, and heavily too.
So, despite North Cyprus actually being cheaper to holiday in once you get here, this year we might miss out to panicking Italian or Spanish villa owners dropping prices by up to 40%.
Or will we?
On the same day, the Mail on Sunday (link) had a feature on the delights on North Cyprus, selling its natural beauty and its history, rather than the beaches. Now, that kind of comparison makes North Cyprus look far more attractive to those who normally like the mix of ancient sites and countryside in Tuscany, or the peaceful delights of rural France. And certainly, when it comes to sunshine and beaches, we can shine just as brightly as Spain, without the currency exchange costs of the Euro.
So, perhaps it's time to get the message out about how North Cyprus IS as peaceful as France, as ancient as Greece, as beautiful as Italy, as sunny as Spain - and as cheap as Turkey.
And a lot, lot less wet that the British summer is turning out to be - again....
Villa owner with a view? Tell us all about it at our Cyprus 44 forum!
For villa rentals in North Cyprus, I recommend Amy Villa Holidays...