Is change in the wind for North Cyprus?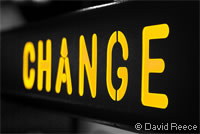 The approaching year could spell times of change for North Cyprus. Change is a funny thing; we spend a long time waiting for it and yet it all seems to come at once.
In April we have the TRNC presidential elections. So far only Prime Minister Eroglu has confirmed his candidacy for the post, although the current President, Mehmet Ali Talat, has recently begun a round of visits to opposition parties. Is he drumming up support to announce that he will stand again? Whilst polls apparently show Eroglu tipped to win the election, the pro-peace party have said that they won't support either Dervis Eroglu or Mehmet Ali Talat. And hey, this is politics so anything can happen!
In the South there are also changes afoot. The Greek Cypriot coalition government seems to be breaking up due to their disagreement about the concessions being given to Turkish Cypriots during the peace talks. And speaking of the talks, it seems that citizens on both sides of the border are becoming more reluctant to vote in a referendum for reunification.
And then we have Europe. The European Parliament is doing its best to undermine a Cyprus solution. Turkey is adamant that it won't sacrifice North Cyprus in its bid to join the EU. And anyway, the Eurozone is in chaos with many member states having problems. It's even possible that Greece could be kicked out of the club for cooking the books. The way things are going, will there even be an EU in the next few years?
So where does that leave North Cyprus? Well, we're now hearing more references to a Plan B in the peace talks and many people believe this would involve pushing for international recognition of North Cyprus or forging closer ties with the Islamic world.
I think the keyword this year is change. And if you're superstitious, you might be interested to know that according to Chinese astrology, 2010 is the year of the Metal Tiger. A combination that hasn't been seen since 1950 and spells bold change with a big bang.
"When one door of happiness closes, another opens; but often we look so long at the closed door that we do not see the one which has been opened for us." – Helen Keller