Getting Around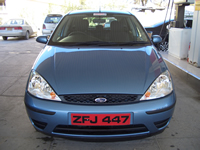 Red Plate Rental Car
photo by: Berkan Ocal
North Cyprus Airport Transfers
If you travel on a North Cyprus package holiday, your tour company will lay on an airport transfer coach. If you travel independently, the best way to reach your North Cyprus hotel or Northern Cyprus villa is to take a taxi. North Cyprus taxis operate a fixed rate scheme for airport collections from either Ercan International Airport. If you arrive at Larnaca airport in South Cyprus, a North Cyprus taxi can collect you and whisk you over the border with a minimum of fuss. North Cyprus taxi firms accept bookings over the web, so you can easily book your North Cyprus taxi transfer in advance. The average one-way taxi charge from Ercan Airport to Kyrenia is 25 British Pounds and from Larnaca Airport to Kyrenia is 45 British Pounds.
You can book your airport transfer (and also hotels) on this Northern Cyprus website.
We recommend this website as a one-stop holiday shop.
North Cyprus Car Hire
Northern Cyprus car hire firms are mostly based in Kyrenia. All North Cyprus hire cars have distinctive red licence plates, and many are marked with the Northern Cyprus car hire firm logo too. Car hire firms in Northern Cyprus offer both manual and automatic cars, and if you are taking a North Cyprus summer holiday, air conditioning is an absolute must. Prices start for a Renault Clio or similar compact car at 16 British Pounds per day in high season for a minimum three day North Cyprus car rental, with a discount on that rate for longer hire periods. If you are picking up your rent a car in Ercan Airport, make sure you read our page on how to get to Kyrenia from Ercan Airport.
South Cyprus Car Hire and Border Crossing
If you arrive at Larnaca airport in South Cyprus, you can hire a car in South Cyprus and drive across the border, but you will need to purchase extra insurance at the border. Read our easy-to-follow, step-by-step, accurate driving directions from Larnaca Airport to Kyrenia (Girne).
North Cyprus Villas and Hire Car
If you have rented a villa in North Cyprus, a rental car will be invaluable for stocking up on food at a local market, as well as exploring the countryside. It's not always possible to park your North Cyprus rental car under a shady tree, so use a windscreen sunshade. An alternative is the old surfer's trick of placing a damp beach towel over the steering wheel of your Northern Cyprus hire car; just shake the sand out first! Not all North Cyprus hire cars offer remote locking, so remember to manually lock your car whenever you leave it.
North Cyprus car hire off road
Several North Cyprus car hire firms offer 4x4s (SUVs) so you can reach parts of North Cyprus ordinary vehicles cannot access. There are not too many places that are open for North Cyprus off-roading, but the sheer thrill of riding around the magnificent Northern Cyprus scenery in an open top jeep cannot be beaten! Prices start at about 25 British Pounds per day in high season for a minimum three day North Cyprus jeep hire, with a discount on that rate for longer hire periods
Cyprus Car Hire Border Crossing
About the only thing you cannot do with your North Cyprus hire car is take it south of the border. If you wish to visit the South, you should park your hire car in North Nicosia and walk across the border.
North Cyprus bus service
North Cyprus buses run between the major towns in North Cyprus during the day, with a reduced service at 7pm and at weekends. Since each bus route is run by individual companies under government licence, the North Cyprus buses themselves range in size and shape, but are usually white minibuses. The North Cyprus bus destination is shown on the front windscreen. There are no North Cyprus bus timetables to speak of, but the service is frequent. If you spot the North Cyprus bus you want, just flag it down and join the local Turkish Cypriot people on board for an enjoyable and fun journey!
North Cyprus Taxis
North Cyprus taxis are easy to find in town, and operate meter systems as in most European cities. You can phone for one, or your North Cyprus hotel will happily book one for you. Rural North Cyprus taxis are only available at taxi stands, and do not have meters, so agree a price before you set off. You can also share a taxi with other passengers (known as the dolmus system), which can keep costs down for both parties and give you a chance to meet new people!
North Cyprus Walking
There are many wonderful walking trails in the North Cyprus mountains, which are best explored in the cooler spring and summer months, when the North Cyprus countryside looks at its best too! Join the walking tours to the beautiful nature and wild flowers of North Cyprus.