Grabbing a bargain holiday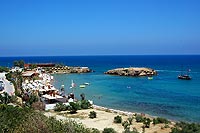 Bargain Holidays for Cyprus
Travelling on a budget is not always easy once visas, tax and spending money is taken into account. More and more people are turning therefore to all inclusive holidays to keep the cost of travelling down and with many different companies offering a whole host of destinations it can be difficult to decide where to go. Here are some top tips for finding your perfect all inclusive holiday.
Being flexible on when you travel can save you a lot of money, so before deciding when to go and booking time off work, pick a rough date and be prepared to change it by up to a week earlier or later. Frequently you can find travel agencies with specific dates for specific deals, and if you're willing to travel when it's best for them you can save over £100. If you're willing to travel out of season then you're even more likely to save. Two of the most popular all inclusive destinations are Cyprus and Egypt, both of which are hot enough in the Easter months and cheaper at that time too.
If you're on a budget then telling the travel agent your price range can often get you a good deal. If you're willing to book last minute then your price range is more likely to be met as the closer it gets to a departure date, the more likely the agents are to do you a good deal. Remember that they're able to move on price, so if they quote you something that you can't afford or a price which would be a push to pay then try and get them down a little.
Be sure to check exactly what is included in your all inclusive holiday, as it's not always as straightforward as it looks. If a particular hotel offers activities and extras then more often than not this will involve an extra payment, as normally only the basics are included in your package. Check what meals are included as well because most resorts will have speciality restaurants which can only be dined in a–la-carte and therefore would be another expense. Ask the travel agent about transfers, because these can normally be included as an extra at a cheaper price than a local taxi to and from the airport would cost.
All in all the key to finding a good all inclusive deal is flexibility. If you're willing to travel out of season, be flexible on dates and on destinations then you're more than likely to find a great deal to suit you. The more specific you need to be on which airport you fly from, which destination to go to and so on, the more restrictive the search will be. And don't be afraid to be honest with your travel agent and say that you can't afford a certain package as they're normally willing to try and get the price down. Remember that they're trying to sell you something, and that if they can get it sold they will, so coming down on price is often a necessary move.