Go Karting in North Cyprus
For anyone used to European go-karting tracks full of scruffy piles of tyres and less than glamorous facilities, North Cyprus go-karting tracks will come as a very pleasant surprise.
Go-karting for beginners in Northern Cyprus
Go-karting is for young and old, ages 7 to 70, and gives you the thrills of motor-racing without the need for Formula 1 major sponsorship deals! The single engine karts zip around at speeds of up to 90kmp, and being close to the ground, hug the corners far more effectively than a normal car. It's as much about skill as speed, as any F1 fan will tell you, so youngsters can enjoy trying their go-karting driving skills in North Cyprus in a safe and well-monitored environment. So, when the Northern Cyprus beaches have warmed you to perfection, and you feel the need for speed, here's where to go karting in North Cyprus.
List of Go Karting circuits in North Cyprus
Go-karting companies in North Cyprus: Zet Karting
There can be few go-karting tracks that are set in a botanical garden, but the Zet Karting track is one such facility! The Zet Karting circuit in North Cyprus was built to meet international standards as laid down by the go-karting governing bodies, the CIK and FIA. This family-run North Cyprus go-karting centre is suitable for both first-time drivers and experienced go-karters, thanks to its excellent design and range of facilities. It's no surprise to discover that the family who built the centre really love their karting; their father raced saloon cars in Britain before the family moved to North Cyprus. It soon became apparent that the family's love of karting was outgrowing the streets and bus garages where they raced, so they clubbed together to set up the island's proper karting circuit. The circuit is full equipped with safety barriers and meets all international safety regulations.
The Zet Karting go-karting circuit in North Cyprus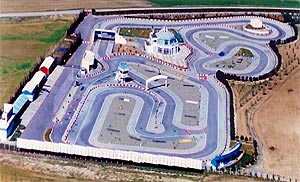 ZET Karting Circuit
photo by: ZET Karting
The Zet Karting circuit is 1200 metres long and 7 metres wide, and you can race in one of five different track modes; from 300 metres to 1200 metres. You can even race at night thanks to a very efficient floodlighting system. There are two kinds of karts available; the 120cc single engine karts for those aged 7 to 14, which can reach speeds of 40kmp, and the 270cc single engine karts for adults, which can reach speeds of 90kmp. The kids will love zipping around the 300 metre circuit, specially designed with them in mind. The central control tower keeps a computer record of very lap time and speed, so you can analyse your performance after each race, and plan how to race better next time!
Zet Karting Circuit facilities
The family-run centre also has a bar and cafeteria, and in a typically North Cyprus touch, a barbeque serving local dishes as well as international ones. Now try getting that at Thruxton racetrack… You can also take professional karting lessons here during your North Cyprus holiday, and even race Remote Controlled cars if you prefer not to be in the driving seat!
Tazkarts Go-Karting Track in North Cyprus
Tazkarts offer a 350 metre track, with enough twists and turns to keep karting fans and novices alike happy for a race or six! Tazkarts will record your lap speed and times, and you can celebrate your amazing go-karting skills in the bar or restaurant afterwards. All karts are fully automatic, so you can just hop in and race away.