Practical Advice on North Cyprus Property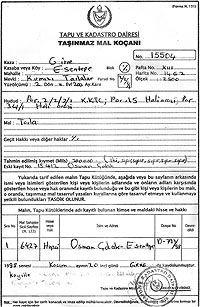 Sample Title Deed
photo by: North Cyprus Properties Ltd.
[ enlarge photo ]
Choosing your North Cyprus property
Any property investment is a major financial undertaking, so here's our quick guide to a stress-free property investment in North Cyprus.
Pre-visit research
Use the Internet to learn as much as possible about property for sale in North Cyprus. You might also like to visit exhibitions on properties abroad, but do ring first to ensure that North Cyprus is represented. The North Cyprus tourist office in London has brochures and booklets available on North Cyprus in general, plus copies of the Residence magazine featuring properties for sale in Northern Cyprus. There are also are a few guidebooks on North Cyprus; make sure you get the latest edition. The British Residents Society also offer a handbook covering aspects of moving to North Cyprus, although this is not always up to date.
Many estate agents and property developers in North Cyprus have web sites, enabling you to browse through the range of property for sale in Northern Cyprus. However, do not be tempted to do anything more than look at the pictures at this stage! Note down the agents names and the areas they cover.
Better still, save hours of detective work and browse the independent property reviews right here on Cyprus44. This unique guide to new-build property developments in Northern Cyprus gives you all the facts you need; property types, site facilities, location and even the low-down on the companies behind the developments.
Best of all, you can ask real buyers for their experiences through our forums. You'll also discover lots of invaluable advice and stories from these genuine owners of Northern Cyprus properties at a range of off-plan and completed developments.
Location, location, location
As with all property, location is extremely important. Try to make at least two visits to North Cyprus before you even look at individual properties, so you can really get a feel for the country and the people. Also, don't just visit North Cyprus in the heat of summer when you're in holiday mode; make a special trip again in both winter and summer just to explore the countryside with an investor's eye, rather than a holidaymaker's viewpoint.
Now focus on particular areas that appeal to you. Ask yourself, what is on your list of priorities for a Northern Cyprus property in that area, or perhaps the priorities of your potential rental clients. Do you/they want easy beach access, or mountain seclusion? Near a bustling town or sleepy village? Close to water sports and clubs in North Cyprus, or mountain views and walks? Part of a level gardened complex with a pool, or tucked away on the hillside down a track?
Once you have chosen an area or two to focus on, it's time to do some area research. Where are the shops, schools, or medical facilities? How far is it to the airport? Is there a lot of development happening here? Again, get a feel for the area as a place to live in North Cyprus as well as visit.
Viewing property in North Cyprus: viewing trips
Some developers are offering special property viewing trips to North Cyprus from the UK, which include accommodation, flights and the services of a company rep to guide you around. If this trip covers developments you want to see, and you only have limited time, they are good value. However, bear in mind the company will only show you developments within their own portfolio, and the unscrupulous may exert some pretty heavy emotional pressure to sign by the end of the trip. Choose a company that clearly states that you have no obligation to buy, and that charges a reasonable fee for the trip. That way, if you don't buy, you also don't 'owe' them anything.
Viewing property in North Cyprus: estate agents
If you wish to see a wide range of properties, do as you would do in the UK, and visit all the estate agents dealing with the areas you are interested in. All Northern Cyprus estate agents should have an agent who speaks English well, and will guide you through what they have available. Plan your days in North Cyprus so that it isn't all viewing and no rest; you should take breaks during the day to consider what you have seen. Take a notebook and a digital camera to record features of properties you like. Again, never be pressured into extra viewings or 'secure it now' deposits without taking overnight to 'sleep on it'. A good North Cyprus estate agent or developer will respect your wishes.
Deciding on your North Cyprus property
If you have chosen your favourite property for sale in North Cyprus, and are looking to possibly buy, revisit it again at a different time of day to the first viewing. Have a really good look round, and imagine how you would use the property. Then imagine other users: are there too many steps for older rental guests, an unprotected balcony for children, a steep drive unsuitable for anything but a four wheel drive? Make sure it ticks all your boxes, and assess fully the extent of any building or decorating work that needs to be done.
Get a solicitor
A legal advisor is crucial to a successful purchase. Not only will they guide you through the process of purchase and the required permissions, but also can act on your behalf when you return home. Always chose an independent solicitor with experience in property law and who is not connected in any way with the seller or developer you are buying from.
Managing your North Cyprus property investment
If you chose to rent out your property, a property management company is a must. Not only will the company look after your property and deal with any emergency repairs, but they can also ensure it is in pristine condition for each new set of guests that arrive. Companies can also offer key collection and rental calendar management services.
Enjoying your North Cyprus property
Remember to book out your favourite weeks to visit if you are renting – after all, it's your property! So, come and relax in North Cyprus whenever you wish, safe in the knowledge that your North Cyprus property may increase in value by up to 20% annually.