North Cyprus Property Restrictions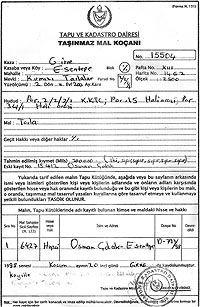 Sample Title Deed
photo by: North Cyprus Properties Ltd.
[ enlarge photo ]
What property can I buy in North Cyprus?
Cypriots and those of Cypriot decent can buy property freely in North Cyprus. Non-nationals are allowed to purchase a house, apartment or plot of land not exceeding 1388 square metres (14440 square foot), which has a Turkish or TRNC title deed. There is no restriction when buying a property with a Foreign Title. You must get permission from the Council of Ministers to purchase any property, which is in essence a formality, providing you do not wish to use the property for commercial purposes. Obtaining permission will involve checks by various government departments and also by the police not only on yourself but on the property location as well.

With the Ministers' permission, you can sometimes buy bigger plots of land for a tourist development in an area where the government wishes to encourage such growth.
North Cyprus Property Purchase Permits
Your purchase permit application should be made through a solicitor or notary, and permits can take between 4 and 12 months to come through. Securing a permit will cost around £750, and the cost is often included in the solicitor's overall charges for the property purchase.
Buying property in Northern Cyprus as a company
It is possible to purchase more property in North Cyprus by setting up a legally formed private limited company with a Turkish Cypriot citizen, so long as the Turkish Cypriot citizen is the majority shareholder. As with all business ventures abroad, this route is not for the faint-hearted and probably will only be attractive to serious and well-funded investors.
However, having said that, the government does offer a range of incentives to foreign investors in tourist accommodation units, for example, which includes exemption from income and corporation tax for ten years and tax-deductible expenses such as travel and promotional materials. You will also need a business permit to trade in North Cyprus.
Separate Land Ownership
In the past, purchasers have attempted to buy more than their allotted third of an acre by having a third party take title deed ownership of part of the surrounding land. Since this process involves a separate title deed for the land, this is not a simple process and certainly far from ideal.
Northern Cyprus Residence Permit
Once you won a property in North Cyprus, you should apply for a residence permit. This is a temporary permit, which can only be converted into a permanent residence permit after three consecutive temporary permits have been issued. Full permanent residence permits can take up to two years to be granted.