Property Buying Procedure in North Cyprus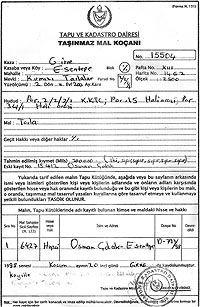 Sample Title Deed
photo by: North Cyprus Properties Ltd.
[ enlarge photo ]
Buying any property abroad can be a daunting process, with the prospect of an unfamiliar buying process, plus complex legal paperwork in a language you don't understand. Fortunately, buying a property in North Cyprus is very similar to buying a property in the UK, if not easier! All legal documents are in English, most solicitors and bilingual in Turkish and English, and the legal system is based on the English model. Given the right circumstances, you can be the owner of a North Cyprus property in just a day!
Five easy steps to buying property in Northern Cyprus
Secure your ideal property in North Cyprus
Once you have found your ideal property in North Cyprus, a simple deposit will secure it for you, and ensure the property is taken off the open market. You can pay by cash or credit card whilst in Northern Cyprus, or pay a deposit from Britain via wire transfer, as cheques can take up to 28 days to clear through the banking system. A typical deposit is 10% of final price. Non-nationals require a purchase permit from the government in order to buy property in North Cyprus, and such permits may take 4-12 months to come through.
Find a local solicitor in North Cyprus
The easiest way to get your permission permit is to engage a local notary or solicitor, the latter being the better choice. Most North Cyprus solicitors are bilingual in both Turkish and English, and hence will be an invaluable guide to the legal process ahead. If buying off-plan, you should consider engaging an independent solicitor who is not connected with the developer in any way. Your North Cyprus solicitor who will look after your interests throughout the buying process, including checking on the company or individual you are buying from, organising your permits required to buy a property as a non-national, and confirming the status of the title deeds. In addition, the solicitor will also deal with all government paperwork and also draw up the contracts, in English. The government will also assess the transfer fees due on the property based on its vlue.
You might wish to give your North Cyprus Power of Attorney, so that he can proceed with the purchase even if you are not present in Northern Cyprus, and can sign the contract on your behalf after you have approved.

North Cyprus Property Contracts
Any contract should be properly examined and read; after all, you want it to work in your favour as the purchaser! Many Northern Cyprus property developers have standard contracts, which your solicitor should check to ensure that any clauses contrary to your interests are re-negotiated. A contract should include:
full property details
full property specifications, including floor plans for new build properties
the official government site plan plus any provided by the developer or seller
payment and completion dates schedules
Once the contract has been scrutinised and both parties agree, the contract can be signed. If your solicitor has Power of Attorney, he can sign for you in your absence, once you have read and approved the faxed or emailed copy of the final contract. Your solicitor will also send you a copy of the final signed contract.
Final payment on your North Cyprus Property
Final payment on a freehold North Cyprus property is due on receipt of the purchase permit. Again, the safest method of payment is via wire transfer, and on receipt the title deeds are signed into your name by the seller. If you are buying a property off-plan, the payments are usually made on completion of specific works, with the final payment securing the title deeds and the keys to your property in Northern Cyprus.
Move in to your North Cyprus villa or apartment!
Now all you have to do is move in and enjoy your new place in the North Cyprus sun!
More information on buying property in North Cyprus
Browse our articles in this section, including: